>>
Sustainable Travel

Sustainable travel

Travel should create unique experiences of different cultures and environments, whilst remaining sustainable and responsible. We are fully aware of the impact that travel and tourism can have on local communities, the natural environment and the welfare of animals.

Here at Nomadic, we feel it is our duty and responsibility to respect local customs, support local communities, respect the natural environment and protect animals. We strive to provide tours that, not only offer our guests unique experiences and different cultures, but also positively contribute to the destination. This is achieved through our support of local people and their communities & aiding provincial projects wherever we can.
Animal Welfare
Working with our destination partners, we ensure the animals involved in our tours are provided the best possible care. Adopting industry animal welfare standards (ABTA guidelines) and following the advice of animal welfare experts, ANIMONDIAL and the NGO SPANA, we prioritise animal welfare protection and encourage our guests to respect animals.
We discourage our customers to engage in the following exploitative practices:
.

Avoid businesses that keep wild animals as pets.
. Do not feed or touch wild animals free-roaming in the wild.
. Avoid engaging with animals used for begging purposes (snake charmers, monkeys on chains, etc).
Animondial
ANIMONDIAL, the animal welfare in tourism specialist, provides Nomadic Tours with advice and guidance on all matters concerning individual animal welfare and species protection. They work with travel businesses to help them better manage their impacts on animals and the natural environment. www.animondial.com
Camel trekking on our tours
Following (but not limited to) ABTA guidelines and suggestions from SPANA, we work closely with Ibrahim our Camel herder to help him adhere to the guidelines. This gives us the confidence to offer the best possible camel trek for you and the camel.
Currently our Camel trek is a 1 ½ hour round trip to the dunes and back to watch the sunset then the same again the following morning to watch the sunrise.
. Our camels are only used for 1 ½ hours, twice per day . Camels free to roam throughout the day and have access to food and water
. No camels younger than 4 years old are used for the camel rides . No vulnerable camels are used . Only 1 rider per camel
. Camels are only tethered for the ride and in the correct way . All equipment /saddles etc are regularly checked
. All camels are regularly checked by vet
Charities
SPANA, a charity that strive to protect working animals in the world.
We encourage our customers to use SPANA's Holiday Hooves guide
https://spana.org/wp-content/uploads/2019/01/Spana_Holiday_Hooves_Guide.pdf
Should you want to use the Caleches (Horse & Cart) in Marrakech Djemaa El Fna square, please look out for the horse with the ankle band; this ensures that SPANA guidelines in Animal Welfare, including regular vet checks have been carried out.
For more information, visit SPANA website https://spana.org/
JARJEER MULE & DONLEY REFUGE
Mule and donkey retirement home, orphanage and care centre for working equines in the foothill of the Atlas Mountains.
The team works with local people offering support for injured and malnourished equines. It also offers an educational facility to children and adults who want to learn more about equine care. For more information about Jarjeer, please visit www.jarjeer.org
Our Association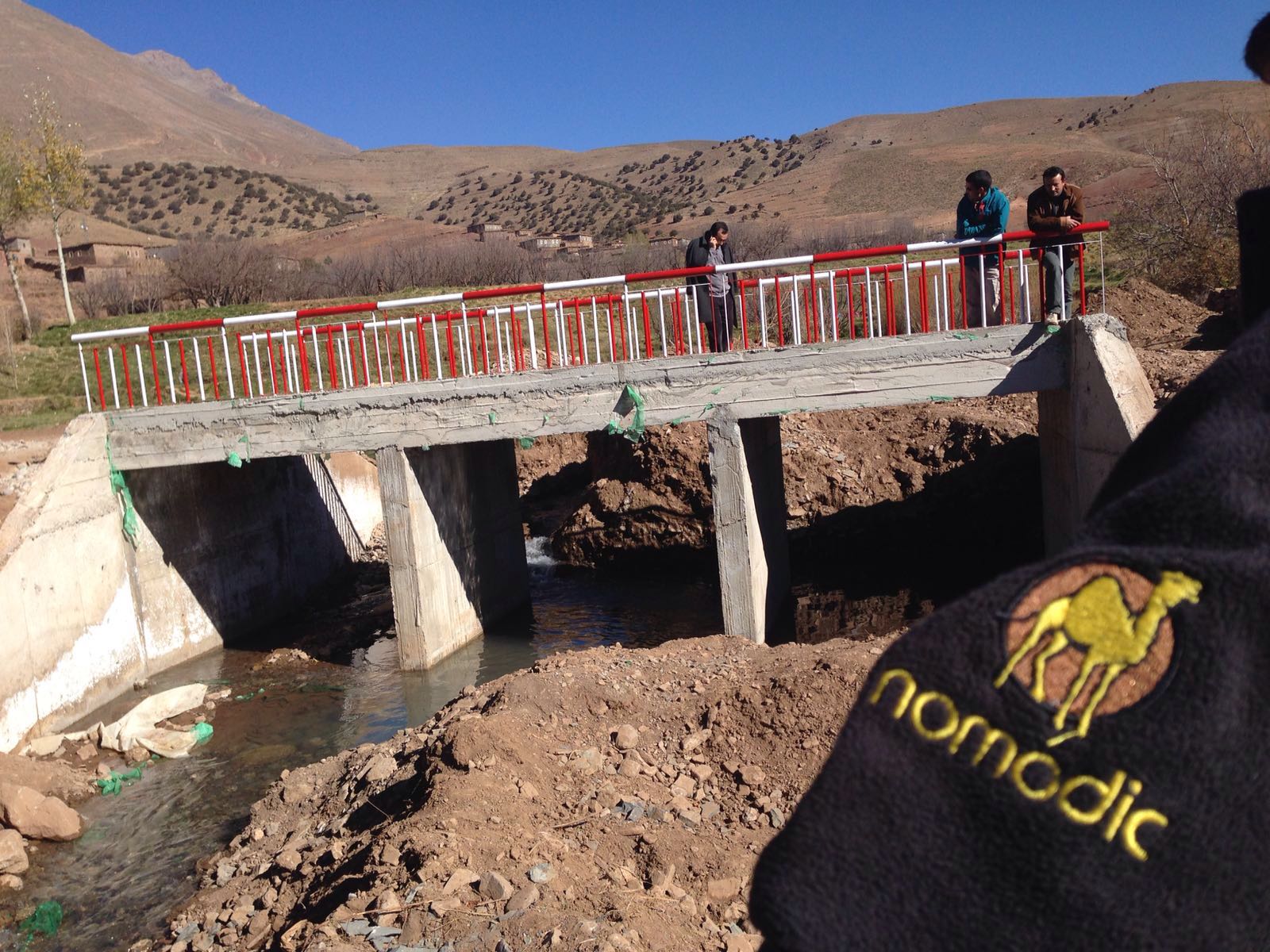 For each booking we receive, Nomadic Tours donates to our association and its various projects.
By booking with Nomadic Tours you automatically support these great projects too!
Association Ait Ouham, coordinated by our tour guides for the Berber community in the Atlas Mountains. Their main goal is to help alleviate the poor infrastructure in schools and around the village. One major project we are incredibly proud of is the building of a bridge over the river running through the village, negating a long walk to school or the village when the river is high. Please see our 'About' page for more details of their projects.